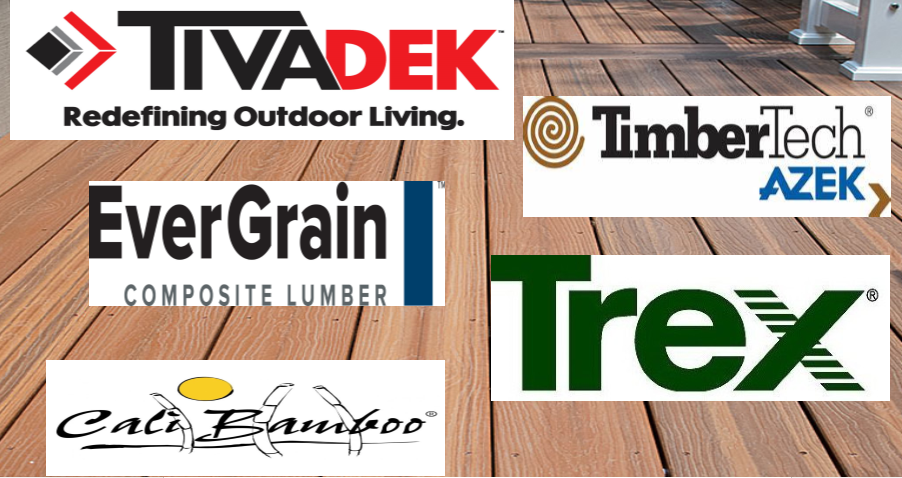 Your home is not complete unless you have a deck. There are many different types of decks to choose from. Those include Wood, Composite, PVC, Bamboo, and many others. Within each of these types there are many brands.  The largest trend in the decking space is composite and PVC. These types of decks include attributes such as natural resistance to pests and decay, good water resistance, and excellent color choices.  Here are Top 5 Decking Brand Choices For You!
#1. TIVADEK
Just like earlier stated TIVA is a premium decking brand. Subsequently, TIVA requires low maintenance over the course of its life span and it comes with a 50-year fade and stain warranty and a limited lifetime warranty. Hence, it provides customers with maximum satisfaction and enjoyment with minimized maintenance.
Manufacturing TIVA involves exotic hardwood, luxury finishes, and natural wood. TIVA offers multiple variations for their brand, and they include TIVA-COAT, a highly specialized waterproof membrane, TIVADOK, a category of dock boards, and TIVADEK is a premium decking board.
#2. Trex
Another decking brand that makes it to the Top 5 Decking Brand Choices For You list is Trex. Trex is a composite decking which is becoming more and more popular as it is eco-friendly in nature and helps to save forests as it can be used as an alternative to wood. With the majority of the materials coming from reclaimed plastic bags, plastic film, and waste wood fibers, Trex is among the most environmentally-friendly decking products.
#3. Envision Composite Lumber
They manufacture decking material from a compression-molding process and they use a lot of heat and pressure to eliminate air pockets in the deck. The result is a very dense and heavy board with deeply textured surfaces. This kind of deck is made from 100 percent reclaimed plastic. No natural wood fibers are involved.
#4. TimberTech (AZEK)
TimberTech products are manufactured from solid PVC compounds.  Their decking boards are molded PVC through the whole thickness with extra cap coatings on the exterior surfaces. However, on the downside, some customers claim or rather complain about cases of fading and warping on their decks as early as seven years into using this product.
#5. Cali-Bamboo
Lastly on the list, is Cali-Bamboo, which uses a material known as BamDeck composite. The products are 60 percent from recycled bamboo fibers and the other 40 percent from recycled plastic. Cali-Bamboo offers multiple installation lines in three colors and their texture choices include wood grain, matte and ridged.
Conclusion
In a nutshell, these five are the top decking brands today, basing on the features and qualities of their products.