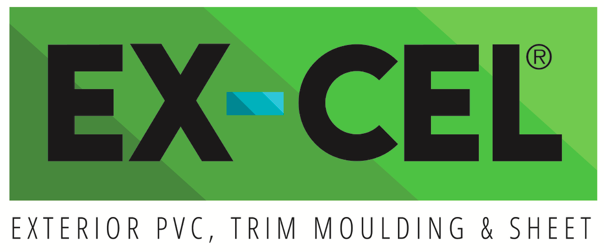 EX-Cel® Classic PVC Trimboard
EX-Cel® Classic PVC Trimboard will give you a beautifully completed look to your home, with essentially no maintenance.
EX-Cel® Comes in a Bright White Finish, with no need to paint and in 2 textures; Smooth and Wood Grain
EX-Cel® is available in multiple profiles, thicknesses, lengths, and widths
25 Year Transferable Warranty, one of the best in the market.
EX-Cel® is available in two textures: Smooth and Wood Grain
EX-Cel® is cut on our state of the art, in-line saw and milling machines. Where we use our SE Technology to give all 4 sides the completed Smooth look and feel.
GET A QUOTE
GET INSPIRED
ARTICLES
ABOUT PVC
Don't hassle with traditional wood products that will rot, delaminate, and could potentially get infested with insects. EX-Cel® will allow you to keep your home looking great for years to come. With multiple options, you cannot go wrong.
EX-Cel® Classic PVC Trimboards & Corners
EX-Cel® PVC Trimboards will give your home the final touches for that curb appeal you are looking for. Picturesque trim with a lifetime value.
For your basic trim and corner needs, we offer more than industry-standard sizes in two different textures. Our Bright White trim allows you to skip the painting. However, EX-Cel® is paintable, if that is preferred.
GET A QUOTE
EX-Cel® Classic Sheets
EX-Cel® Classic Sheets are perfect for custom millwork, arch window trim, soffit, and porch application. Fascias, casements, rakes and other accents can easily be crafted to compliment your siding. EX-Cel® Sheets can be used anywhere you would use plywood panels. Our product will cut, route, and mill with ease due to our quality high-density consistency. And, as with all EX-Cel® products, are resistant to moisture, salt & insects. Available in smooth and woodgrain.
GET A QUOTE
EX-Cel® Beadboard and Beaded Sheet
Accentuating your trim & siding package with EX-Cel® Classic Beadboard & Beaded Sheet will bring out more beauty and value to your home. EX-Cel® Classic Beadboard & Beaded Sheets are perfect for ceiling applications, soffit, and wainscoting; As well as high moisture applications, such as Bathrooms, Laundry Rooms, and much more. EX-Cel® Beadboard & Beaded Sheets are tongue and grove with a reversible pattern. The front has the edge and center bead pattern, while the back side is a v-groove pattern. In our Bright White Color to match your EX-Cel® Trim, it is not necessary to paint, however, it is paintable if desired.
GET A QUOTE
EX-Cel® Specialty Trim
Jain Building Products wants to complete your full trim line to bring ease to installation for the builder, contractor, or any person doing DIY. EX-Cel® Specialty Trim Package is perfect for Door and Window Surrounds, Skirt Boards, and Corners. They can help you hide your Siding Edges or become your joint expansion piece for long Siding runs.
GET A QUOTE
EX-Cel® Columns
Our newest addition to our trim system is our EX-Cel® Columns. EX-Cel® now has Square Posts with Caps & Bases.
The EX-Cel® Columns match our Bright White Trim System. With an easy snap installation, any DIY person could complete the job.
GET A QUOTE
EX-Cel® Moulding
EX-Cel® offers several Moulding profiles to finish your trim job. Whether you use them on the exterior or interior of your home, you will not regret the beauty of your finished job. EX-Cel® Mouldings match our Bright White Trim system and do not need to be painted, however, they are paintable in the field.
GET A QUOTE
Working with Cellular PVC
When using Cellular PVC for Building Materials applications, machining the product is fairly easy and no special tools are needed.

You can cut, mill, drill, fasten just like Wood.
Cellular PVC Characteristics
PVC will not rot, crack, deteriorate, splinter, peel, or delaminate.
Can resist Fungus, mildew, and airborne substances.
Will not absorb moisture, allowing it to be installed below grade.
Suited for contact with brick, concrete, brick & stucco.
Energy Efficient – R-Value is greater than wood and vinyl.
ACCESSORIES
Accessories can be just as important as the trim. From Fasteners, to Adhesive, Fillers and Paint. Sherwood has the perfect options to put the final touches on your Trim installation.
GET A QUOTE