THE PERFORMANCE LEADER IN EXTERIOR LIVING SPACE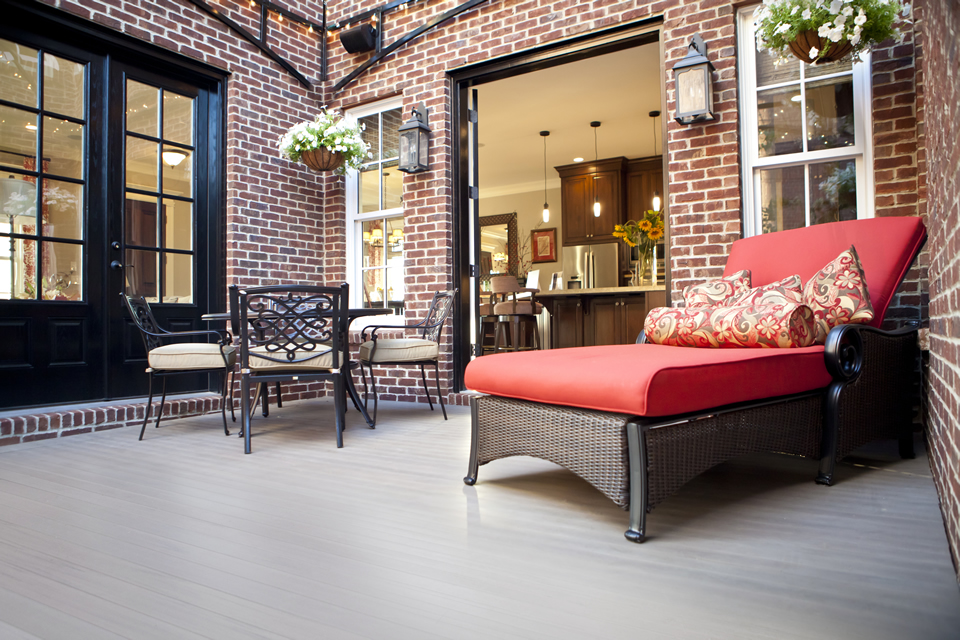 It's not just an extension of your house… it's an extension of you.
The front porch is where we meet. It's where we greet our friends and loved ones. It's where we make first impressions. It's where we play, we relax and it's where we dream.
Your front porch isn't just an extension of your house, it's an extension of you. By choosing Aeratis PVC porch products, the proven performance leader, not only will it make an elegant first impression for generations to come, it has the flexibility to make an impression that's distinctly you. Whether you like the look of stained and finished wood or prefer the traditional look of a painted porch floor, Aeratis has a product that's right for you.
GET A QUOTE
GET INSPIRED
For covered and uncovered porches can be painted or left natural as well as stain resistant
Can be made waterproof or water-tight, is mold resistant and will not rot
No ventilation requirements
Installs with staples, nails or screws
Cuts like wood and can be routed
Approved for historic restoration
Dimensionally stable, meets W.U.I. Requirements and ADA slip-compliant
Limited Lifetime Warranty
Aeratis Porch Flooring
Aeratis Porch Flooring is a solid extruded PVC tongue & groove porch plank proven to out-perform wood, polypropylene, polyethylene, and open-cell PVC products. Its unsurpassed durability coupled with a historic and traditional design fortifies your porch floor against nature's adverse effects while standing up to the scrutiny of the most discerning traditional architects, builders, historic societies, and homeowners. Aeratis Heritage now includes an acrylic-based cap making the surface harder to scratch or scuff maintaining ADA slip compliance and much more fade resistant.
All Aeratis products are easier to install than wood and can be used on covered and uncovered porch applications. With the addition of Aeratis Legacy, a true 6-inch wide plank, Legacy reduces the installation time and fasteners resulting in a lower cost per square foot installation. Aeratis Traditions is paint-ready (with a 5-A paint adhesion) wood replacement product and is competitively priced compared to many wood species with far greater performance characteristics.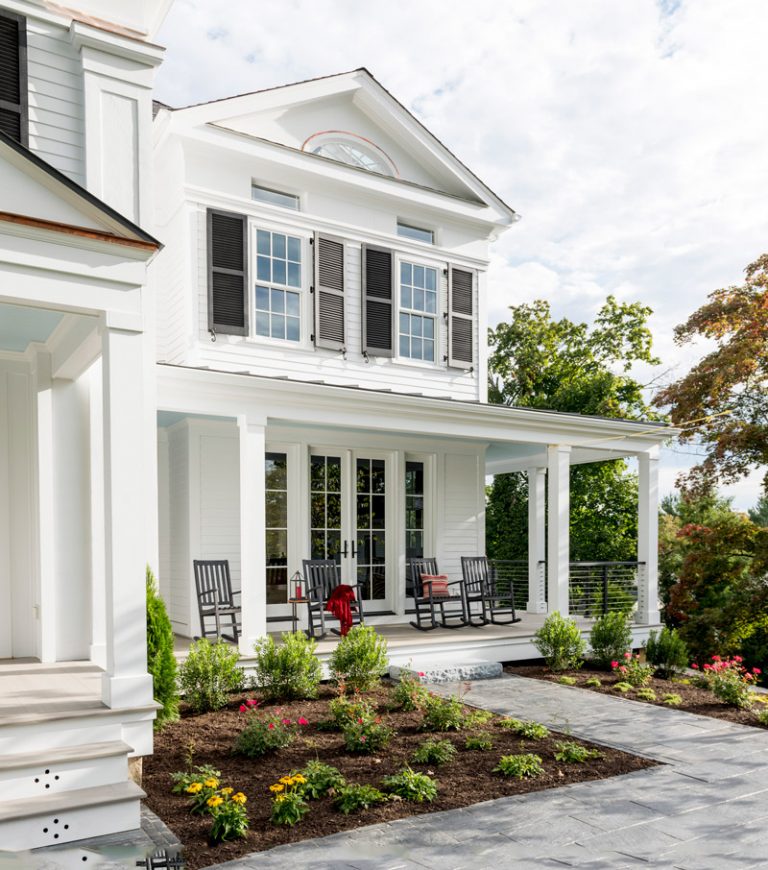 Aeratis Heritage
Aeratis Heritage is a true double-sided tongue and groove porch plank that comes in three pre-finished colors, Battleship Gray, Weathered Wood and Vintage Slate. These colored boards are made with slight color variation along with subtle, random streaking to match the richness and depth of natural wood. Heritage, like all the other Aeratis products, can be painted or stained any color, any time in the future, by following the steps within the Traditions paint instructions.
The Heritage line of products are ADA slip complaint and carry a Class "B" fire rating (more flame resistant than any other competitors' product). This double-sided board offers a finished ceiling look from the underside of a porch floor that is visible from underneath.
Aeratis Heritage T&G porch flooring board dimensions are 3-1/8" x 7/8" and are available in 12', 16' and 20' lengths. As seen above from left to right: Battleship Gray, Weathered Wood and Vintage Slate. The Aeratis products have the appearance of wood and natural color variation.
Aeratis Traditions
Aeratis Traditions tongue and groove porch flooring/ porch decking is a paint ready wood replacement product. Competitively priced compared to wood at the time of install, Aeratis Traditions T&G porch flooring offers an unsurpassed warranty, endless design capabilities, significantly lower maintenance than wood and an appearance that not even the most discerning historic official could tell it is not a wood porch when your project is complete.
Simply said, "Only a rich man can afford to install a wood porch floor today". This saying has a lot of truth. Not only is the life cycle of pine and fir significantly shorter than it was in years past, many consumers forget the actual annual cost of maintenance.  On average many porch owners pay between $4-$9 per square foot annually on maintenance and upkeep.
Aeratis Traditions is an uncolored, paint-ready board that is designed specifically to replace wood tongue and groove products. Traditions can be painted or stained in any color.  Unlike the Legacy or Heritage line which can also be painted, Traditions flooring requires paint or stain to maintain the warranty.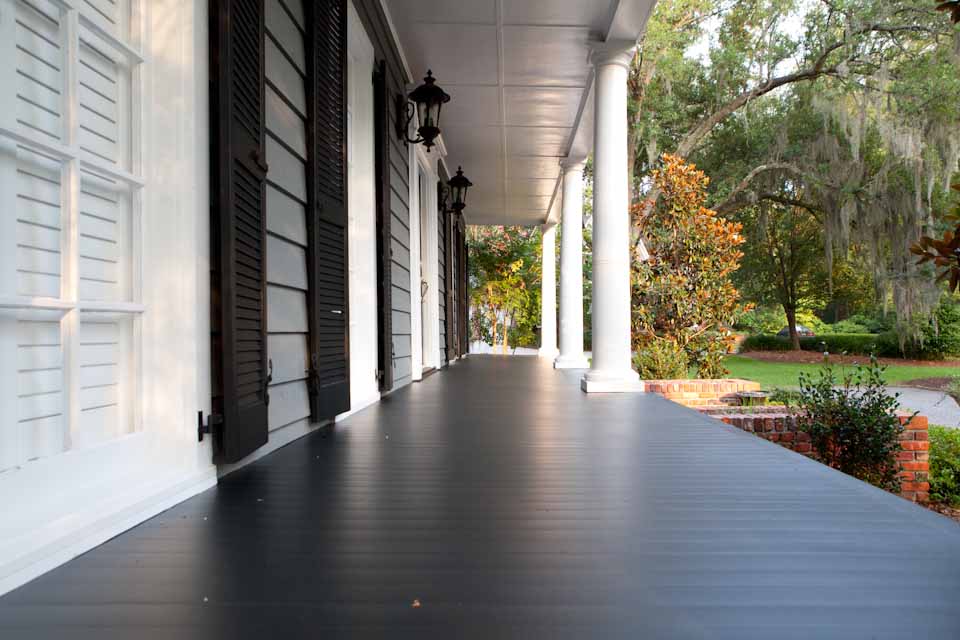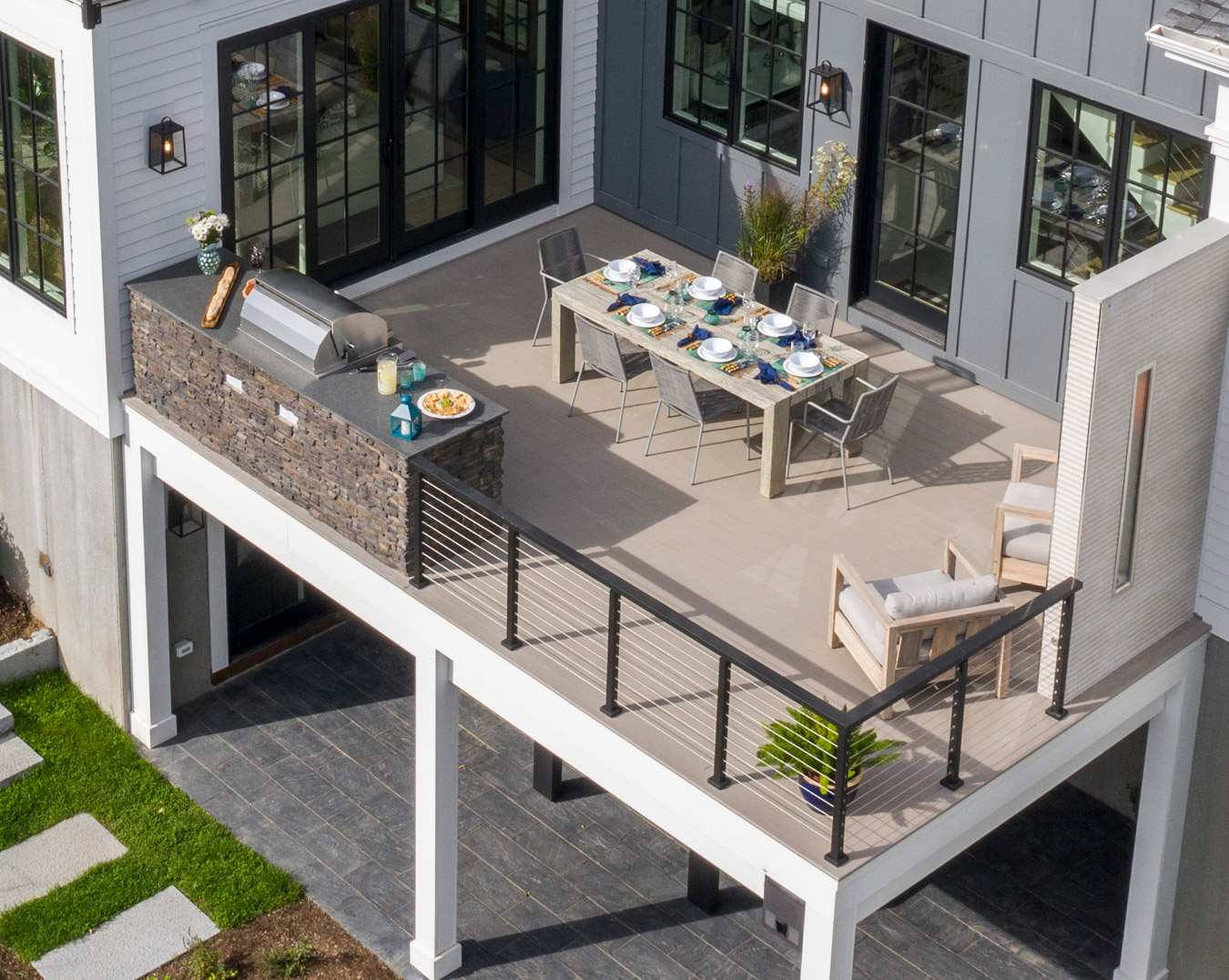 Aeratis Legacy
Aeratis Legacy is a 6" wide T&G porch plank. This board was engineered to match the wider planks used on many porches in the early 1800s. The wider plank not only cuts the installation time in half, but it also provides a richness and beauty that could only be found on historic homes crafted before the 1900s. The Aeratis Legacy product comes in 3 colors: Battleship Gray, Weathered Wood, and Vintage Slate. The actual dimensions of the board are 6" wide, and 7/8" thick and comes in 12', 16' and 20' lengths.
When considering the overall value and aesthetics of a porch, many property owners consider using a radius edge deck board in a porch application. This can cause a few issues on top of the fact that, aesthetically, a deck board with gaps should never be used in a porch application. One of the issues with there being gaps between the boards is it allows moisture to pass in between the boards. This can lead to moisture problems underneath the entire structure. In addition, the lack of ventilation underneath a porch and direct sun on the surface can cause many deck boards to swell and buckle.
All too often property owners look at the cost per square foot of a deck board and compare it to a 3-1/8" wide tongue and groove board and they choose to use the deck board due to cost savings. With the introduction of the Aeratis Legacy product, and it's built-in hidden fastener system property owners can receive cost savings from installation as well as a more competitive cost per square foot. Couple these two items with the known performance characteristics and Aeratis Legacy becomes the clear choice when considering which product to use in exterior living space.
Universal Porch Flooring
The Aeratis Universal Porch Plank, or UPP, is a 5-1/2" x 7/8" x 12' PVC plank specifically engineered to be used in conjunction with all of the Aeratis porch planks or as a standalone product. The Universal Porch Plank comes in Battleship Gray, Vintage Slate, Weathered Wood, and our proprietary paint-ready formula.
One corner of the board has the unique feature of a pre-finished rounded edge, while the other three edges are 90-degree corners, offering more versatility in your designs. The pre-finished bullnose provides the finishing touch for the lead edge of stairs or a seamless picture frame. If the pre-finished bull-nosed edge is not desired, just flip the board over for a square-edge look.
For stair applications, make sure the bullnose is facing out on the lead edge of the stairs. On the inside board that touches the riser, make sure the bull nose is facing down and to the rear of the stair riser. This will provide the appearance of a T&G surface while providing a very small gap that will allow water to escape.
The Universal Porch Plank comes in our proprietary paint-ready product as well.  The Aeratis Traditions paint-ready Universal Porch Plank is perfect for picture framing your Traditions installation, for use on stairs, or even as a standalone wide-plank porch application. Follow the same painting instructions as the porch planks.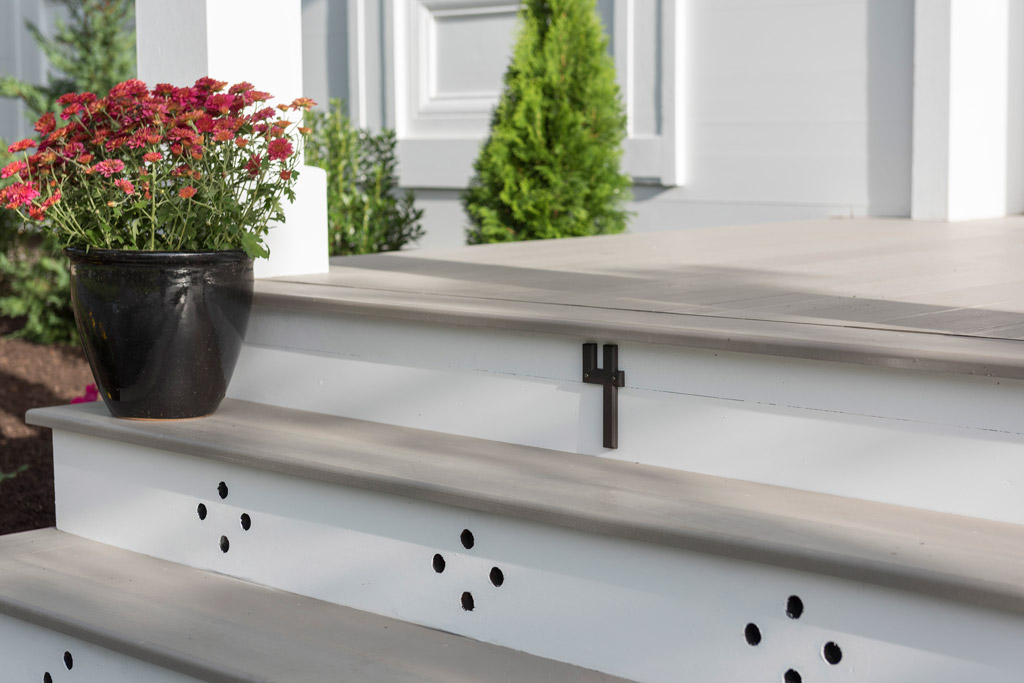 Aeratis Trim Options
There is no better way to dress up the ends of your T&G porch planks or to cover where boards meet vertical surfaces than to use one of our trim pieces. The Aeratis trim pieces are solid extruded PVC with the DuraTech acrylic-based cap,  giving you peace of mind knowing that they are not cellular PVC.  All of our trim pieces come in 8′ lengths. If you are looking to paint or stain the trim pieces, simply follow the paint instructions under the resource's menu on the right-hand side.
Aeratis Porch Ceiling
Aeratis Traditions Beaded Ceiling/ Wainscoting is a historically accurate, double-sided, paint-ready PVC ceiling product. The Traditions Ceiling board dimensions are 5" x 3/8"x 16'. What makes the Traditions Ceiling Board unique is the fact that it is the only synthetic that can be installed with the ceiling joist 24" OC.
Further, the ceiling board can be painted any color due to the nature of our proprietary paint-grade formulation. (See paint instructions and paint rebate at Aeratis.com). The Traditions ceiling board not only saves time and money during the installation process, it dramatically reduces the overall construction cost due to the significant advantage of the 24" OC span rating over every other synthetic on the market.
The major advantages of the Aeratis Ceiling Board over any other are:
The Aeratis Ceiling Board is the ONLY T&G synthetic ceiling product that can be installed with a joist span of 24″ on center.
The Aeratis Ceiling is the only true double-sided, historically accurate ceiling board on the market.
INSTALLATION INSTRUCTIONS
Aeratis Porch Flooring
The First of its kind… 12-½ wide PVC Stair-Tread
Aeratis has engineered the first of its kind 12-½" Stair-Tread for exterior use. The stair-tread product comes in 16′ lengths. It also comes in 3 colors as well as an Aeratis Traditions option (paint or stain ready). The 3 colors are Weathered Wood, Battleship Gray, and Vintage Slate. All pre-colored products are engineered with the Aeratis DuraTech capping technology.  Notice the Aeratis Stair-Tread is double-sided.  Either side can be used as a tread surface. The Aeratis Stair-Tread can be ripped on a table saw for exact fits on stairs that call for less than a 12-½" board as a tread. The beauty of this product is that it will reduce the maintenance of your stair and stop pointy heels from getting stuck between boards. All too often multiple boards will collect dirt, dust, leaves, and debris in the gaps creating slip hazards or higher maintenance areas. With a single board in place large enough to provide an overhang, you can now have the aesthetic appearance of interior stairs, outside.
INSTALLATION INSTRUCTIONS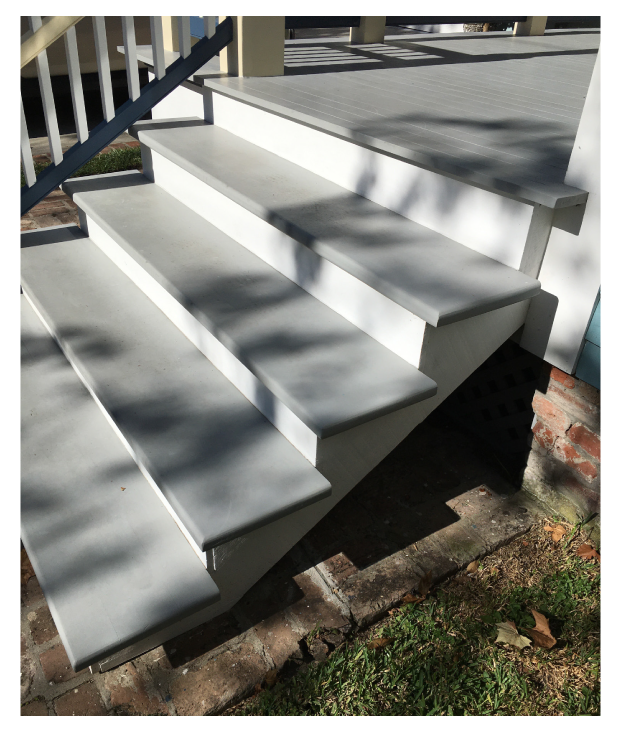 Aeratis PVC Shutters
Aeratis now offers custom, historically accurate, operable, PVC shutters with a limited lifetime warranty for a fraction of the cost of wood shutters. These shutters can be purchased one of the following 3 ways:
1) In a box and ready to size, assemble, paint and install. At this amazingly low price, assembly and painting is required. If you can commit to about 30 minutes and have the skill to use a miter saw and screw gun, you can save hundreds of dollars with each pair of shutters over using wood shutters.
2) Assembled and ready to paint and install. Ready to Paint? You can order Aeratis Louver or Raised panel shutters pre-assembled to the size you need. When the shutters arrive, each pair of shutters are ready to paint and install on your window.
3) Painted and ready to install. Yes, it is true! Aeratis Custom louver and raised panel shutters can be ordered a custom size painted and ready to install. Simply visit your local lumberyard or visit Aeratisshutters.com and request a quote.