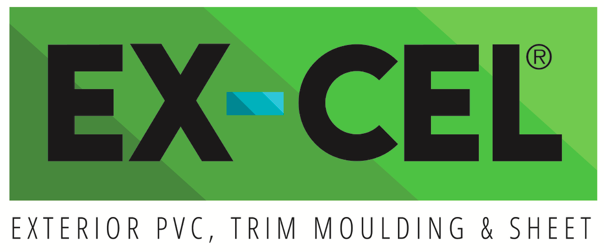 EX-Cel® Classic PVC is an exterior trimming board. The best decorative top trim board in the market is now being distributed by Sherwood Lumber. Ex-Cel PVC trim board is one of the top trim boards that essentially don't need any maintenance. It is safe for the environment and a really great replacement for wood. This trim board packs a number of fantastic qualities that you need for your home. Ex-Cel gives your home the perfect scenery appeal lasting for a lifetime. There are multiple options of Ex-Cel to choose from. Hence, you cannot go wrong with Ex-Cel when choosing. All colors and personalities are incorporated for our customers.
  Qualities of Ex-Cel PVC Trim Board
Very smooth, since, using SE technology all the four sides of the trim board are given the state of the art cuts and trims.
25 years warranty. The warranty is also transferrable and considered to be one of the best warranties in the market.
Ex-Cel comes in many lengths, profiles, widths, and thicknesses.
No need to paint or maintain the trim board.
Available in two textures i.e. wood grain and smooth.
EX-Cel® Classic PVC classic sheets
They offer the best platform for arch window trims, custom millworks, soffit, and porch applications. Your favorite siding options are perfectly crafted and complemented by casements, rakes, and fascia. Ex-Cel sheet applications are quite robust and can be used on most plywood panels.
Ex-Cel is a top trim board that is highly durable with its products being resistant to moisture, salt, and insects. Classic sheets are available in both woodgrain and smooth.
EX-Cel® Beadboard and Beaded sheet.
Mostly accentuated with trim and siding board to bring out more value and beauty to your home. Additionally, beaded sheets tend to be the best for ceilings, wainscoting, and soffit. This is because beaded sheets work well in regions with high moisture like bathrooms. Due to this, Ex-Cel beadboard and beaded sheet are grooved with a reversible pattern. The provided color is white which can be repainted if the need arises.
EX-Cel® Classic PVC trim board and corners
Usable for normal and basic corner and trim needs. Available in two different textures and industry sizes. These trim pack a lifetime value. Hence, they need little or no maintenance at all.  The white trim available allows the customer to skip painting on his/her part and save a lot of extra costs in the process. However, customers who'd like to do their own painting are  also considered in the EX-CEL®.
EX-Cel® Specialty Trim
This specialty trim is designed specifically for window surrounds, doors, corners, and skirt boards. Best for hiding siding edges or broken joint expansions piece for long siding runs.
EX-Cel® Columns
Sherwood Lumber is now providing this trimming system. Additions like square posts with bases and caps to Ex-Cel columns make it easy to install. Any DIY can easily complete the installation job.
EX-Cel® Moulding
Finishing your trim job may be a daunting task. However, Ex-Cel provides several molding profiles that will help you complete any trim job. Either, on the interior or exterior of your home Ex-Cel performs exemplary well be it in new paint jobs or offering resistance to mold, insects, or salt.