Westbury® Aluminum Railing
Beauty meets strength.

Elegance meets distinction.

Masterpiece meets innovative engineering.
Westbury® Aluminum Railing was designed with these essential elements in mind. With a variety of designs, colors, and textures, you decide what fits you. Whether you add railing to the front of your home or to the deck in the back, you will have turned your home into a very welcoming retreat.
Tuscany C10 Aluminum Railing
Tuscany features classic 2-rail designs
These designs are accented with a stylish top rail and ¾" balusters along with a variety of satin, textured, and multi-color finishes and a lifetime limited warranty. Tuscany Railing is available with square (C10) balusters.

*all other colors special order
STAIR RACKING GUIDE
TRAINING VIDEOS
RESOURCES
VertiCable® Aluminum Railing
It's Your View – Enjoy it with Westbury VertiCable® (Style C80)
VertiCable® offers contemporary vertical cables and balusters providing an architectural style and virtually unobstructed views. VertiCable® was recently revised to provide added strength and durability (patent pending). All sections are factory assembled, tensioned, and shipped on pallets ready for quick installation. VertiCable® hardware mirrors Westbury® C-Series products allowing consistent design, performance, and configuration for the contractor or builder. VertiCable® is available in 12 standard AAMA 2604 compliant powder-coated colors as a special order. Custom AAMA 2604 & 2605 colors are available as a special order.

*all other colors special order
STAIR RACKING GUIDE
RESOURCES
ADA Continuous Handrail
Westbury® ADA Continuous Handrail is designed to assist individuals with Accessibility or Mobility concerns.
ADA compliant handrails ensure that commercial, public, and private spaces are accessible for individuals with disabilities. ADA Handrail is easy to install on any surface including existing railing and walls and is compatible with new or existing railing systems. Featuring the superior durability of aluminum railing, these versatile components and accessories provide a perfect safety solution for ramps, stairways, decks, and a variety of other applications.

*all other colors special order
TRAINING VIDEOS
RESOURCES
DOWNLOAD BROCHURE
Railing Post Kit
Westbury Aluminum Posts and Post Kits provide the flexibility you to need to complete your railing project.
Post include Post Kits (both regular and assembled), Posts with Plates, Core Drilled Posts and Post Sleeves, Support Posts, and all the accessories need to complete the Westbury Aluminum Railing. DSI offers both Westbury Aluminum Railing Post Kits and Posts. Westbury Aluminum Post Kits contain all the components necessary to assemble a railing post. Kits eliminate the need to order post components by providing everything in one box. Kits are available for a variety of post sizes.

*all other colors special order
LOAD WEIGHT INFO
RESOURCES
Montego & Montego II Aluminum Railing
You'll want to roll out the red carpet for these luxurious designs.
Montego (C20) creates an eye-catching design with the curved lines of the architectural balusters and definitive 2-rail design. Montego II (C23) builds on the eye-cathing design of the Montego Railing by adding a third rail. The third rail accents the curved lines of the architectural balusters providing an elegant look for your outdoor living space. Straight Sections in both Montego and Montego II are available as a radius, allowing the creation of a beautiful Juliet Balcony accent for your home.
STAIR RACKING GUIDE
TRAINING VIDEOS
RESOURCES
DOWNLOAD BROCHURE
Riviera Series Aluminum Railing
The Riviera Series features distinctive 3-rail designs.
This series has 6 different styles along with a stylish top rail and ¾" square or round balusters. You only need to choose the color, design, and height that will turn your home into a retreat that will be welcoming to all.
STAIR RACKING GUIDE
TRAINING VIDEOS
RESOURCES
Veranda Glass Railing
Veranda (C70) creates a phenomenal viewing area.
The crystal clear design incorporates full glass panels into the classic 2 rail design. Whether you have a view of land or water, Veranda gives you an open concept with the security of full railing sections. Railing sections do not come with glass panels. Panels must be ordered separately. DSI offers A clear Standard Glass Panel and Bronze and Grey panels as a special order. Optional 3/8″ Tempered Glass Rails are available. DSI does not offer 3/8″ tempered glass.
RESOURCES
These colors may be available as a special order.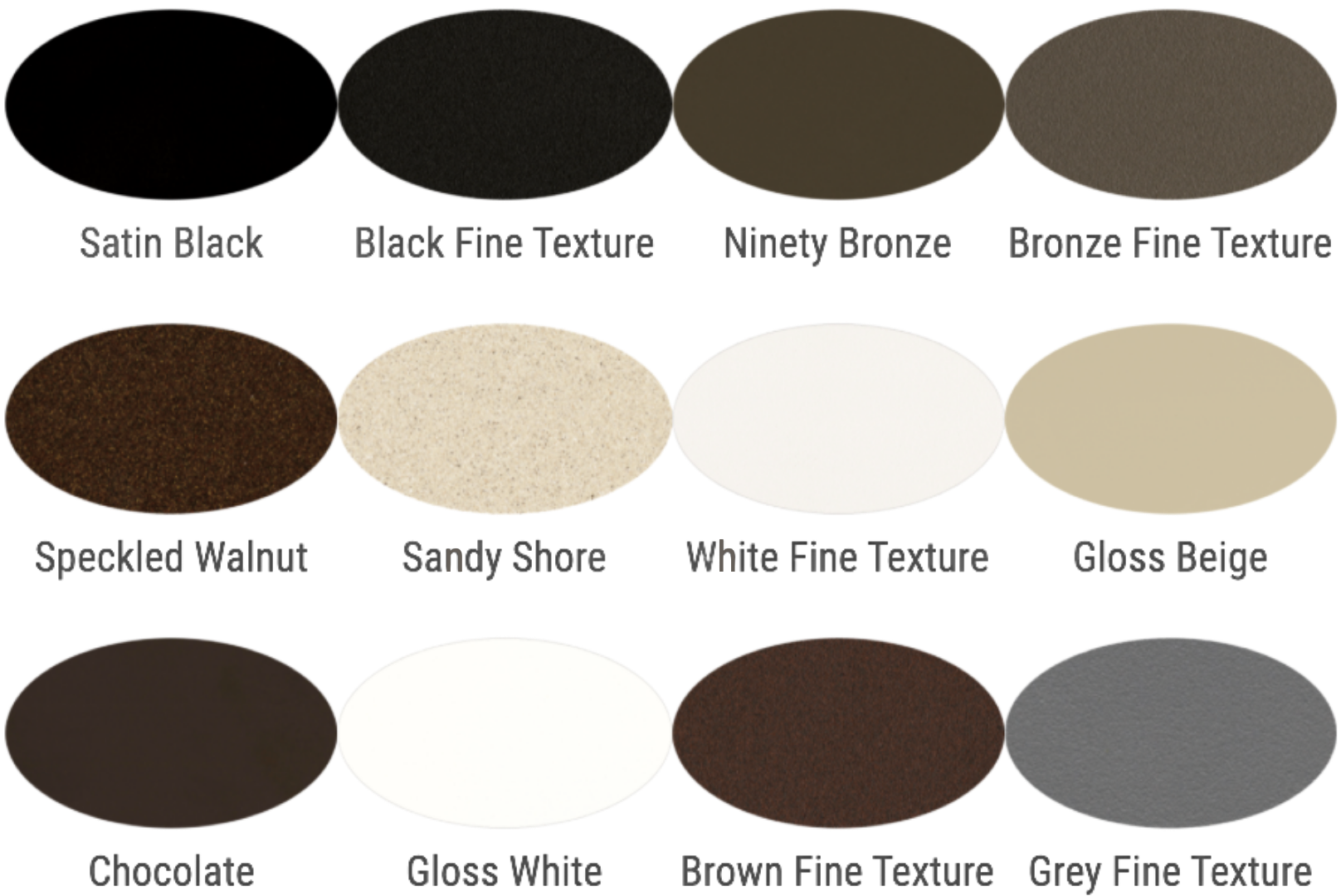 Limited Lifetime Warranty
Digger Specialties, Inc. warrants to the purchaser that its Westbury® Aluminum Railing is free of defects in workmanship and materials and that, in the course of normal and proper use, its Westbury® Aluminum Railing will not crack, peel, blister, flake, rust, nor be subject to abnormal weathering per AAMA 2604 Specifications.
VIEW WARRANTY
More about Railing Products