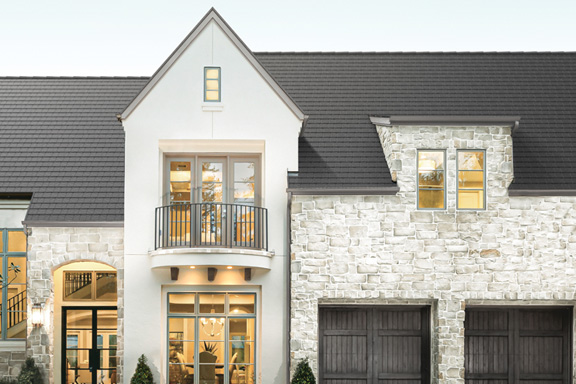 Are you planning on changing your roof? Are you confused about which is the best roofing material and stuck between metal, concrete, wood, slate and asphalt composite roofing? Well, no need to think anymore. Statistically, almost 80% of roofing is done using metal roofing material, manufactured from different metals like aluminum, stainless steel, zinc alloys as well as copper. Out of all these metals, there are those that have an edge in durability, ease of installation, pricing, appearance as well as holding paint.
There are also those that combine most if not all of these features. So, let's explore some of the best metal roofing you can choose from.
TrueNature metal tile is Vicwest's latest addition to its wide range of high-quality products, and it is already dominating the market. It could be perhaps the best metal roofing as it brings closer the dream of redefining the building industry into a more environmentally friendly industry.
The metal roofing is made of steel. It features the reputable Quadra-Loc technology that locks the tiles in place on all four sides. This makes it watertight and almost indestructible by water. Its robust profile gives it a shadow line and seamless edge. This is aesthetically appealing and makes it almost indiscernible from slate when installed. You will find TrueNature metal roofing to be lighter than slate, concrete, or clay. Even better, you will not have to break your bank account to have them installed as they cost almost half the price of slate roofing material. The roofing also requires virtually no maintenance, making it an economically wise investment.
The most outstanding feature though, about this roofing, is that it is the only metal roofing that can filter water over tiles. This helps prevent corrosion and rusting, which adds to the durability. Like all metal roofs, it is also 100% recyclable at the end of their lifecycle, and so prevents releasing toxins and waste to the environment. This is not practical with asphalt shingles.
Order your TrueNature metal roofing from Sherwood Lumber and get to choose from Midnight Storm, Mica Grey, Ebony, Shadow Deep Grey, and Banished Slate finishes.
Drexel by Drexel Metals
Drexel roofing metal is another option you can consider. It has an aesthetic appearance that will redefine your whole exterior look, and its durability is longer than asphalt roofs. This is a good investment, as it requires less maintenance and has relatively high energy efficiency and performance. It is also recyclable which makes it good for the environment.
However, this might not be the best choice if you are not prepared to incur a high initial cost. Compared to Vicwest's TrueNature, this option may be more costly. It also does not have the capability to filter water over tiles and might be easily susceptible to rusting.
InterLock Solid Copper Roof by InterLock Roofing
Another option in the list is InterLock Solid Copper Roof. As its name suggests, the roofing material is made from copper. It has a premium look that is meant to give your house an expensive appearance. It is also very strong and almost indestructible by elements like acid rain, dust, and so on.
One thing, however, to note about this roofing is that it is extremely expensive. It can cost roughly $1800 per square feet for material and labor. This is against the $550-$750 for steel roofing.
Other metal roofing
Besides the three, you can also consider Metal Pro Roofing, McElroy Metal and Everlast Roofing, Inc.