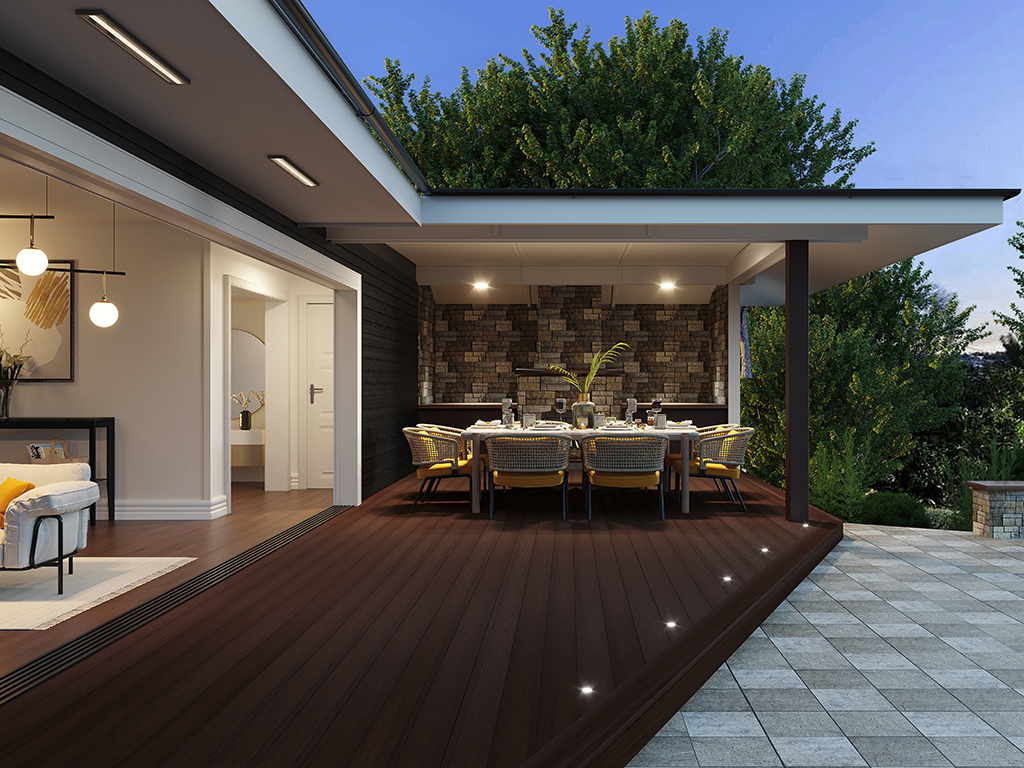 Since you will be using your deck for different purposes, you need to ensure that it is comfortable for use. The same way you light your house interior is the same way you should light your exterior. For the top deck lighting ideas, there are several options to choose from. The three major categories of exterior lighting include accent lighting, landscape lighting, and security lighting. All of these categories are meant for different needs and there are a variety of choices in each case. Below are some of the most popular deck lighting ideas.
1. Security Lighting
The main purpose of security lights is to scare off intruders and destructive animals. In most cases, you will find it either above the garage or the eaves. This ensures that the lights cast light down the walkways and the deck and this will make your home shine from corner to corner.
2. String Lighting
String lighting creates a warm and intimate ambiance that is desirable for exterior entertainments. With these lights, you will not need to run extension cords since there will be light even at the far corners of your deck. The best option to use in this case is the rechargeable, waterproof and solar-powered or battery-powered string lights.
3. Landscape Lighting
Using landscape lights around your deck, gardens and walkways is of great impact to the exterior. Apart from illumination, the landscape lights also opens up the exterior space.
4. Under-Table Lighting
Just as the name suggests, under-table lighting is where the light bulbs are located under the outdoor tables. It falls among the top deck lighting ideas that are appropriate for the decks with cooking or grilling areas. It enables the people to see clearly whatever they are doing on the tables.
5. In-Floor Lighting
It involves placing lights in the corners of the deck, near the seating and even the steps. Lighting your deck stairs makes them look very appealing and colorful at night. The main reason for lighting the stairs however is to ensure during the nights and avoid chances of accidents. In such cases, you will find the light in between the steps of the stairs. In-floor lighting results in a colorful deck lighting combination.
6. Lanterns
The cheapest way to light your deck is to use lanterns that use either solar or battery bulbs. The lanterns are perishable and you can set them wherever you want them to be. Moreover, they bring about a traditional look to your deck which also gives it a unique appearance.
However, it is not just a matter of lighting any type of deck anyhow. You need to, first of all, ensure that the lighting design is in agreement with the decking design. There are decks that will pair well with string lighting and also others that won't and that is a very important consideration. Composite decking however is not limited to any kind of lighting and you can use any of the top deck lighting ideas on your composite deck. Choose MoistureShield composite decking for a variety of color designs that will match your lighting plans.