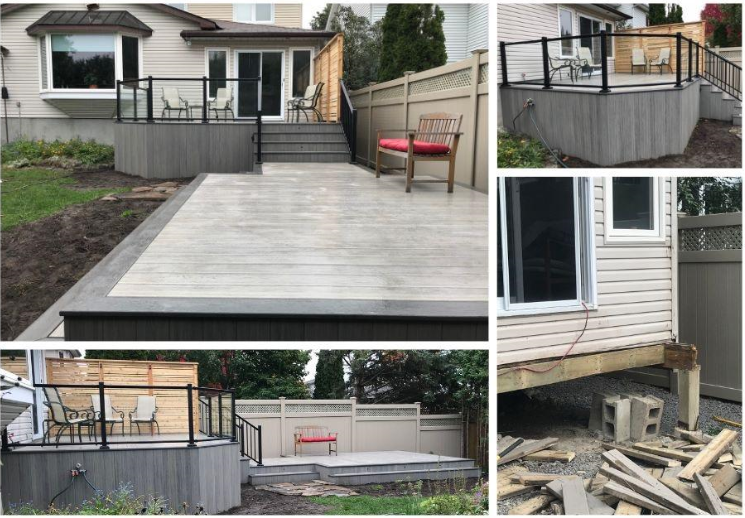 Building or construction is like fashion, each year or rather a season comes with its own trends. And, in most cases, the new trends are usually an improvement of the previous ones. Decking also, as part of construction comes with new trends year in year out. So, let's look at the top 5 decking trends in 2019.
#1. PVC decking
Before, having a wood deck was everything and the envy of everyone. That is because wood was the only option available or that was discovered yet. However, today, there are multiple options, the most trendy one being PVC decking. Most homeowners and contractors have rapidly drifted towards PVC decking because of two reasons. First, PVC decking needs the lowest level of maintenance, and this is a save on time and money. Secondly, if you are a lover of the natural appeal of natural wood, you can still use PVC decking options because they can replicate the appearance of real hardwood.
And, if you are looking for something different, reputable brands like TIVA has a variety of styles for your choosing.
#2. Statement handrails
Among the top 5 decking trends in 2019 is the inclusion of handrails in your deck. The principle aim of this is simply to make a bolder and stronger statement in your deck. A few constructors also advise having the handrails for increased security. There are quite a number of materials you can choose from, but the most recent and the classiest is using glass rails. Of course, this will look sleek but it also comes with a few disadvantages. However, if you can handle it, then you should give it a shot. Besides the glass rails, you can also consider using basic aluminum columns.
#3. Bold colors
Using bold colors for outdoor space has rapidly grown popular among homeowners. It is quite understandable because the bold colors not only feel warm but also add some life to the whole place. Some of the most frequent colors are the red-brown, caramel, clay and a few with mushroom tones. But have in mind, when you use these bold colors for decking, you will need to use contrasting options on other things. For instance, you can have fresh railing hues or some textured embossing.
#4. Water features
You can also take this whole thing to the next level and include a water feature in the decking area. A more upcoming trend with this is having floating pathways. As you can imagine, this trend is always breathtaking and it does more than just making a statement. It brings serenity and creates a sense of life. But, the water features only work best with decking materials that hardly absorb water and have low maintenance needs. Consider using PVC decking and since a warranty cover will also come handy, you should consider brands like TIVA, which have broad coverage.
#5. Heating and lighting options in the decking area
Your decking area is one place you can always be and just feel free and at peace. This should not be limited by weather conditions, such as extreme cold. To counter this, homeowners are including heating options like EcoSmart fire feature on their decks. Another option could also be Infratech radiant heater.
Also, for a lover of modern appearance deck, lighting should be one of the things you incorporate. An elegant and modern angle lighting option will add an enviable ambiance to your deck, as well as improve visibility and increase security. Some of the lighting options you can consider are the step lights, post sconce light, post cap, among others.
So, if you are thinking of building a deck and you are the kind of person who likes going with trends, then these top 5 decking trends in 2019 are what you need to get your dream deck.