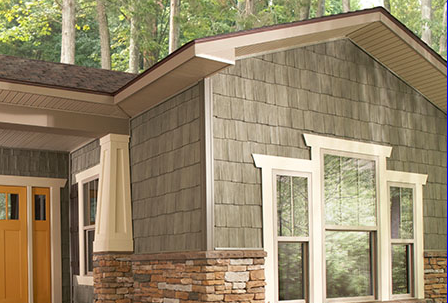 If you have stone veneers in your house, you need to know about the Ply Gem paint warranty. Maybe the color has faded on some of your stone veneers, or the finish is no longer shiny. If you notice this then you should consider repainting your stone veneers.
Make sure that it is time for a new coat of exterior paint. You can try out the easy tests yourself. On some areas of exposed stone, touch up some paint and see how well it sticks. Also, try applying household vinegar with a sponge over an area with fading color. If the color comes back, you know it is time to repaint your Ply Gem stone veneers.
Stone veneers are porous, and water must get through. Therefore, stains like oil or grease can stain the surface of your veneer if allowed to sit for a long time. If this happens, scrub the area with a solution of equal parts bleach and water and dry thoroughly before painting. Here are six easy ways to tell that it is time for new paint.
If your house needs a color change
We've all had the experience of wearing uncomfortable clothes with something telling us that we should change. If a similar case happens with your stone veneer, then it may be time for a new look. It could be fun and save you money as well. If your home needs an update anyway, now would be the perfect time to repaint your exterior! You will no longer worry about matching colors with your current paint, and it will add curb appeal to your home.
If You see mold or mildew on your house
Like with clothing, when there's mold or mildew on something, it needs to be changed. If you see any black spotting on your stone, it is a sign that moisture has been trapped and mildew or mold has formed. You must take care of this right away to have a healthy house.
When the paint is fading
If your paint looks dull and you can see the natural stone through the surface, it's time for a new coat. Even if no other symptoms are present, simply having a fresh look would be worth the cost. It adds curb appeal to your home exterior and update its appearance drastically.
Water turns black when you wash it
This symptom indicates that salt deposits from water have built up in the grout between veneer pieces. If this happens, scrubbing may remove the build-up, but you will need to repaint it afterward.
If It has been long since your last paint job
Exterior stone veneers are like clothing: they wear out. If it has been four or more years since your last painting, then it probably is time to repaint your Ply Gem stone veneers.
Make sure that you check out the warranty on your Ply Gemstone before the installations. While there are many benefits to choosing stone veneer siding, there's nothing like having a fresh new look every few years! The warranty makes it easier – so why not have the best quality around? Contact Sherwood Lumber Today for the best stone veneers brands.