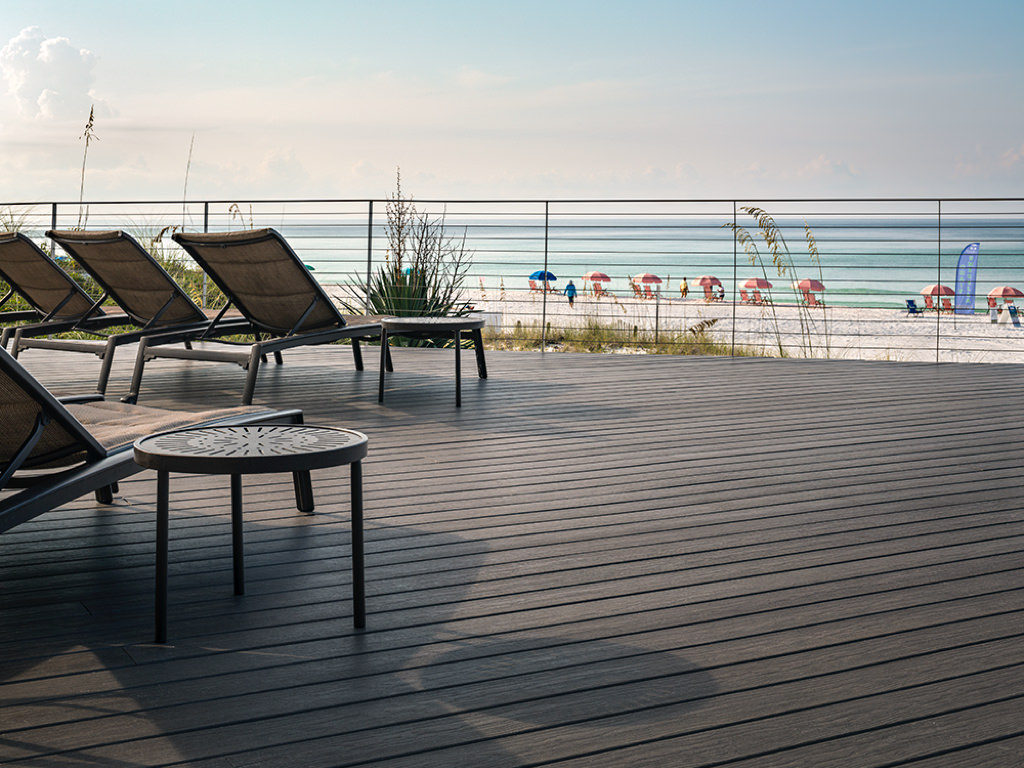 Whether you're a skilled DIY-er or professional contractor, knowing a thing or two about composite decks can come in handy for your next outdoor project. The innovative mix of recycled wood fibers and recycled plastic makes composite decking far more durable than natural wood decking or pressure-treated deck boards. We know it has the ability to withstand the elements and time — but how long do composite decks actually last? With proper maintenance and MoistureShield Solid Core technology paired with our industry-leading warranty, it could be longer than you think.
How Will My Composite Decking Last?
Composite decking takes your favorite features of wood decking and makes it better. With proper installation and maintenance according to the manufacturer's recommendations, a composite deck can last 30 years — sometimes even longer. Compare that to pressure-treated deck boards that have been shown to last an average of nine years. American hardwoods can last about 20 years but require frequent maintenance that becomes costly over time.
While natural wood is susceptible to rot and insects and is expensive to upkeep, our composite decking featuring Solid Core technology is not. On top of the general durability of composite decking, we also provide a 50-year structural warranty to ensure longevity.
Little to No Maintenance
There's more to having a deck than "install and enjoy" — there's upkeep, too. Wooden decks require a deep scrub every two years and sealing every two to three years. Without this frequent and costly maintenance, they can absorb moisture and warp or crack over time. Traditional wooden decks also have the potential to splinter, requiring sanding and repairs to restore smoothness.
Composite decks, on the other hand, do not require sanding or staining to maintain its like-new look. In fact, you should never stain or paint composite decks. Instead, you can purchase MoistureShield composite decking in a variety of colors to your liking. A simple soap-and-water wash will keep a composite deck clean, making maintenance almost effortless.
A Wise Investment in Your Outdoor Living Space
Overall, pressure-treated wood has the shortest average lifespan of any common decking options. It's inexpensive, but the long term upkeep costs add up. The pricier option, exotic wood, lasts a bit longer but still requires a similar amount of upkeep. Oftentimes, upkeep requires professionals for sanding and staining — and that can come with a hefty price tag.
Composite decking may cost more at the start, but with maintenance only costing about $50 a year and a potential lifespan 30 years or more, you'll get to enjoy your deck for much longer.
"Not to mention, home's with composite decking have a higher resale value than those with wooden decking. So chances are you might be able to recoup most of the cost if you plan on selling the home later in the future," adds Mark Soto from ContractorAdvisorly.
You can even estimate the cost of MoistureShield composite deck boards before you start your project
Want to Know More About MoistureShield?
With Solid Core technology that encapsulates wood in durable plastic, DiamondDefense coating to protect against scratches and CoolDeck technology that reduces heat absorption by 35%, MoistureShield is a trusted innovator in composite decking. Order samples for your next project and contact us today — we're here to help.