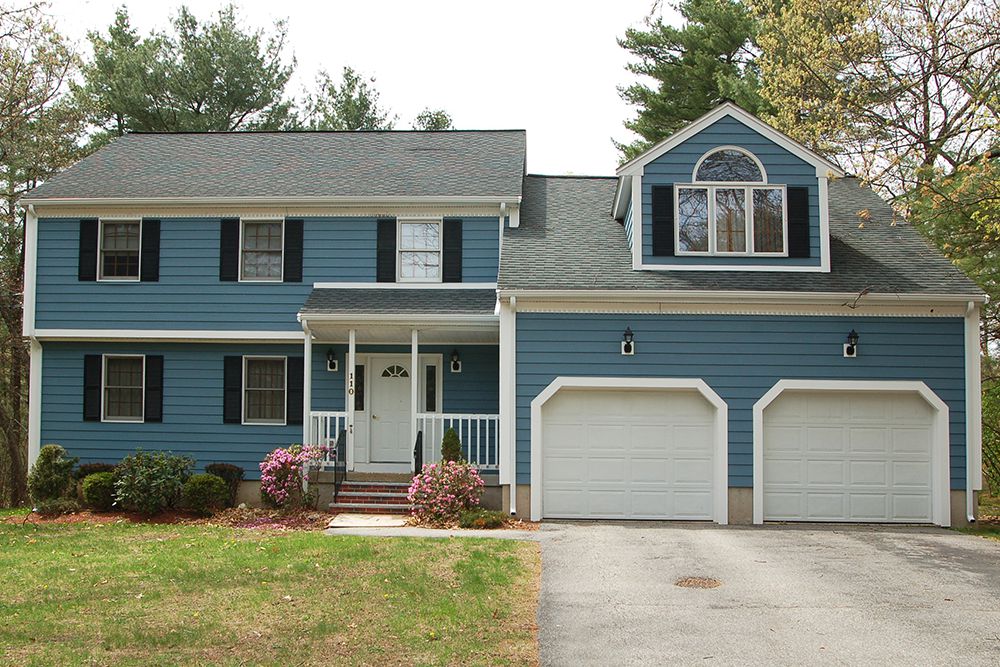 For most people, buying or building a home represents the largest investment of their lifetimes. It is where they put down roots and raise a family.  Consequently, most homeowners and contractors spend much effort and time designing unique and lasting exterior solutions.
When it comes to building, buying, or updating a home, homeowners want to know that the products are nothing but the best. These products must deliver the curb appeal that will delight the owners every time they pull into the driveway. Beyond helping to define a home visually, the building materials must also be able to withstand decades of snow, wind, rain, and more.
So how?
If today's contractors want to meet these escalating demands, they know they must specify high-design, high-performance products. By specifying products such as Everlast® advanced composite siding, builders are ensuring that the exterior of the home stands the test of time. This transforms the dream of building a "forever home" into reality.
A comprehensive solution, Contractors are using Everlast® composite siding products as cladding for the entire exterior of a home. Everlast siding products feature multiple reveals and styles that are usable in conjunction with one another or in combination with other materials when there is a need for a multi-product finish.
In essence, Everlast enables contractors to deliver what homeowners want: modern homes equipped with a high-performance exterior that is designed to last a lifetime.
Mixing and Matching
Everlast siding is offered in two styles: horizontal lap siding and vertical board and batten. Everlast Lap Siding is offered in a 4-1/2″ and 7″ planks. Board & Batten vertical siding features an 11″ reveal comprised of a 9" board and a generous 2" wide batten. Both styles are available in a variety of upscale colors that contractors are using in multiple ways.
"We vary colors and exposures of Everlast," said John Dudley, president of United Home Experts, located in Ashland, MA. "For example, we might use the 4-1/2″ plank on the top half of the home and then the 7″ on the bottom, or vice versa. On that same house, we may decide to intermix Board & Batten as an accent as well."
Dudley added that the newly introduced Everlast Board & Batten is gaining momentum in his region and that more customers are requesting it.
John Creo, president of Creo Construction in Millington, NJ, relies on Everlast to deliver curb appeal to the homes he remodels for his customers.
"Our team strives to provide the most creative solution for the homeowner in an effort to really make their house stand out," Creo said. "Everlast siding helps us achieve that, and we often combine the siding with brick or stone, shake siding, board and batten, or a stone veneer. The multiple textures – with Everlast as the main component – delivers a sharp appearance."
A Comprehensive, Lifetime Solution
"Simply, completing your home with Everlast siding means providing a long-term solution for the structure and investing in a product with a great warranty. The Everlast siding system is the best in the industry," Explains Dudley.
Everlast siding does not require costly maintenance or yearly upkeep and it will last for life.
Dudley offered a comparison to illustrate the point. In his experience, darker colors of alternative products such as fiber cement start to display significant amounts of fading by the 10-year mark. Therefore, fiber cement requires a new coat of paint every 6 to 12 years to keep a like-new look. Of course, climate and exposure to the sun's UV rays affect fading timetables. But homeowners who choose fiber cement should expect ongoing maintenance.
Everlast, on the other hand, was tailor-made to circumvent the challenge of continual maintenance. The goal is for the home to look virtually as new in year 20 as it did on day one.
"Customers are blown away by the finish on Everlast when we hand them a sample. The sheen is so much nicer than other products. The wood grain is more realistic, it's thicker, and the butt-ends align much better," Creo added.
Creo explained that if a homeowner is in the market for fiber cement, they "have" to go with Everlast. His reasoning was that the price points are similar but Everlast siding far exceeds fiber cement in terms of performance. Additionally, homeowners are getting a more realistic, true wood grain appearance. In his opinion, it's no contest.
"For every job we have where a homeowner is initially considering fiber cement, nine out of ten of those projects will end up having Everlast siding on the exterior. Once you sit down and compare the two, Everlast is the obvious choice and homeowners are seeing that," Creo added.
Everlasting Exteriors
Whether you're designing an all-Everlast home or mixing the siding with other materials, you can trust Everlast siding. It will provide superior weatherability with no required maintenance or repainting. It will also make designing unique and lasting exterior solutions on your home easier.
The company that manufactures Everlast siding, Chelsea Building Products, backs it with a transferable, limited lifetime warranty. The warranty also covers against hail damage, which is something homeowner's insurance may not cover.
"You'll love your home again," Dudley concluded.