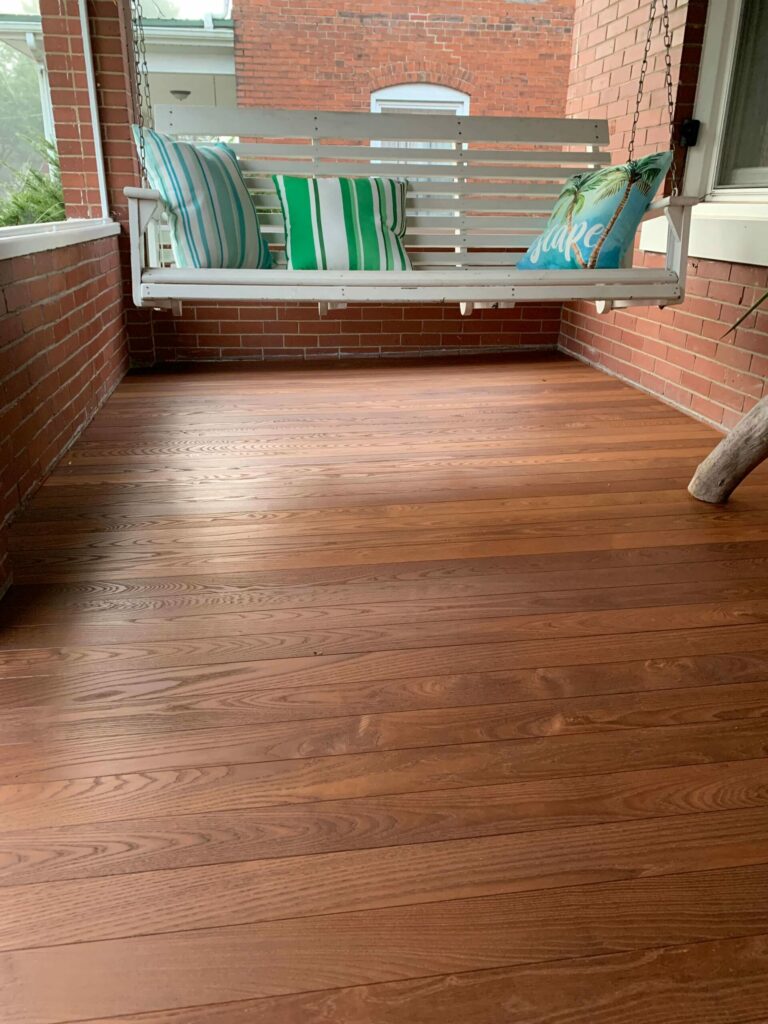 It's summertime, and your freshly-sanded porch is safe and secure, not to mention looking great. But while you're lounging on the sofa, don't let yourself forget that between now and wintertime—when it may be too nasty to enjoy having your feet swing over the edge of your porch—all you have to do is watch out for one thing: porch warping.
Porch warping typically happens when moisture seeping from under the floorboards onto wooden decking or siding has nowhere else to go. It leads to wood warping and cracking, so you must address it pronto.
Here are some common ways to protect your porch flooring from warping:
Thoroughly clean the porch
After painting it, you should immediately clean your porch to identify any moisture traces. Check for leaks in your roof and ensure that none of the pipes or gutters need replacing. If you have a basement, ensure the sump pump is working correctly.
Prepare your porch flooring
Once done with the inspection, you can start sealing the porch at the top to prevent moisture from getting trapped underneath it. Apply a transparent sealer onto the floorboards after sweeping and vacuuming them to remove as much dust as possible. Let the sealant cure for some time before laying down other waterproof flooring materials such as rubber mats.
Make sure you don't over-seal
It is impossible to seal a wooden floor from moisture completely, but you can prevent it from getting trapped and causing warping. If you over-seal, the moisture will seep through the sealer, so you should seal your porch floor only when it's still wet with rainwater or other moisture. Follow the guideline on the product label so you won't end up sealing more than necessary.
Protect your porch flooring from sun exposure
Another way to protect your porch flooring from warping is by protecting it from UV rays that could cause rot. Before sealing your porch floor, you should well protect it from direct sunlight by using porch awnings or tight-weave curtains.
Maintain the upkeep
Follow these guidelines so that you'll be able to enjoy your porch flooring even during the winter when icicles are a common sight. An issue you should remember is that wood flooring expands and contracts when heated or cooled. So if you have a room that's not directly connected to your living room and is very temperature sensitive, you can use cork for insulation instead of wood.
Add a heat source
If you cannot fit an electric fireplace on your thermally modified porch, consider getting a small gas fireplace that can heat the room instead—that way, you won't have to worry about moisture getting trapped under the flooring. If you don't have time for that luxury, use a heating pad that can be wrapped around the entire decking and keep your feet warm while you read your favorite book.
By following these tips on how to protect your porch flooring from warping, you won't have to worry about moisture anymore. You'll still have to seal the wood every once in a while since products such as sealant usually wear off after a year, but this will be enough to keep your porch looking excellent and functional. Get Sherwood's best performing Americana porch flooring and enjoy years of quality performance.