Aeratis Porch Flooring not only offers exceptional durability and performance but also provides endless design possibilities to elevate the style of your porch. Whether you have a traditional home, a modern residence, or anything in between, Aeratis Porch Flooring can be customized to complement your aesthetic preferences. In this blog post, we will explore some design ideas to help you create a stylish porch using Aeratis Porch Flooring.
Classic Elegance: Aeratis Porch Flooring beautifully replicates the look of traditional wood, making it an ideal choice for homeowners who appreciate classic elegance. Combine Aeratis Porch Flooring in a warm wood tone with white railings and columns for a timeless and sophisticated porch design. Add traditional porch furniture, such as wicker chairs or a porch swing, to complete the classic look.
Coastal Retreat: If you love the relaxed vibe of coastal living, Aeratis Porch Flooring can help you achieve that beachy feel. Opt for light-colored flooring, such as a soft gray or sandy beige, to mimic the look of weathered driftwood. Pair it with crisp white or pastel-colored furniture for a breezy and inviting coastal retreat. Consider adding nautical-inspired décor, such as striped cushions, lanterns, and seashell accents, to enhance the coastal theme.
Modern Simplicity: For those who prefer a contemporary style, Aeratis Porch Flooring can be an excellent choice. Select a dark or rich-toned flooring color to create a sleek and modern aesthetic. Pair it with minimalist furniture in neutral or monochromatic hues for a clean and streamlined look. Incorporate modern accessories, such as geometric planters, sleek light fixtures, and abstract art, to enhance the contemporary feel of your porch.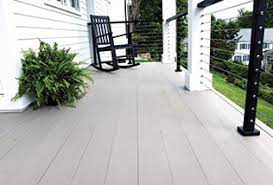 Farmhouse Charm: Aeratis Porch Flooring can also be utilized to create a charming farmhouse-inspired porch. Opt for a warm-toned flooring color with a distressed or reclaimed wood look. Pair it with rustic furniture, such as a farmhouse-style table and vintage-inspired seating, to evoke a cozy and welcoming atmosphere. Incorporate country-inspired décor, such as galvanized metal accents, floral arrangements, and lanterns, to enhance the farmhouse theme.
Eclectic Oasis: If you enjoy mixing different styles and creating a unique blend, Aeratis Porch Flooring can be the perfect foundation for an eclectic porch. Mix and match flooring colors and patterns to create visual interest. Combine vintage and modern furniture pieces for an eclectic seating arrangement. Experiment with vibrant colors, patterns, and textures in your accessories, such as pillows, rugs, and wall art, to infuse personality and create a one-of-a-kind oasis.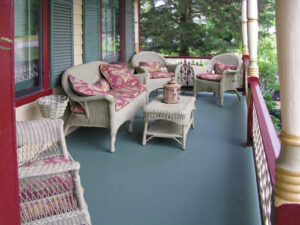 Remember, the design possibilities with Aeratis Porch Flooring are virtually endless. Don't be afraid to let your creativity shine and personalize your porch to reflect your unique style and taste. Whether you prefer a classic, coastal, modern, farmhouse, or eclectic design, Aeratis Porch Flooring offers the versatility to bring your vision to life. Upgrade your porch with Aeratis and create a stylish outdoor space that becomes an extension of your home's interior.