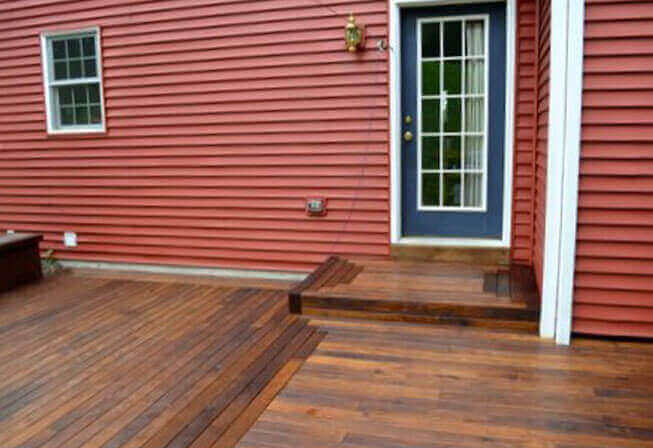 If you're looking for an excellent porch floor with minimal maintenance needs, prefinished thermally modified wood may be a perfect choice. Here are a few benefits of prefinished thermally modified porch flooring:
It's beautiful
The natural grain of the wood is enhanced by the thermal modification process, resulting in a rich, deep color that will complement any home décor. Prefinishing also means no visible knots or imperfections, giving your porch a smooth, polished look. Therefore, it will always look amazing, and you won't have to worry about sanding or refinishing it every few years.
It's durable
Prefinished thermally modified wood is stronger and more resistant to rot, decay, and insect damage. It can also withstand extreme temperature changes, making it an ideal choice for porches that experience hot summers and cold winters. The prefinished surface is also scratch and stain-resistant, so you won't have to worry about your porch flooring looking worn after a few years of use.
It's easy to maintain
Prefinished thermally modified porch flooring requires very little maintenance. A simple sweeping or vacuuming is all you need to keep it clean, and it doesn't require any special cleaners or treatments. You can wash the porch floor using water and soap if it gets dirty.
It's eco-friendly
Thermally modified wood is a product of sustainably harvested lumber treated with heat and steam instead of chemicals. This makes it an environmentally friendly choice for those looking for green building material. If you have prefinished thermally modified wood on your porch, you can feel good about knowing that you're using a product that is safe for the environment.
It's cost-effective
Although prefinished porch floor is more expensive than some other types of porch flooring, it's a wise investment because it will last longer under minimal maintenance over time. The initial cost may be higher, but you'll save money in the long run by not having to repaint your porch floor often.
It's green
The process of thermally modifying wood doesn't use any chemicals, so it's a very eco-friendly option. Thermally modified wood is an excellent choice if you're looking for a building material that is good for the environment. Your prefinished porch flooring will be beautiful and sustainable, making it an excellent choice for the future of your home.
It's easy to install
Prefinished thermally modified wood flooring comes in tongue and groove boards that are easy to install. You can handle it by yourself or hire a professional, but the installation process is relatively simple either way. Once your floor is installed, you'll be able to enjoy it for many years to come.
If you're looking for a beautiful, durable, easy to maintain, and eco-friendly porch floor, then prefinished thermally modified wood floor is the perfect choice for you. With all these benefits of prefinished thermally modified porch flooring, you can enjoy years of quality performance. Moreover, Sherwood Lumber's Americana porch floor guarantees you added benefits due to its outstanding quality.