Why Sherwood Lumber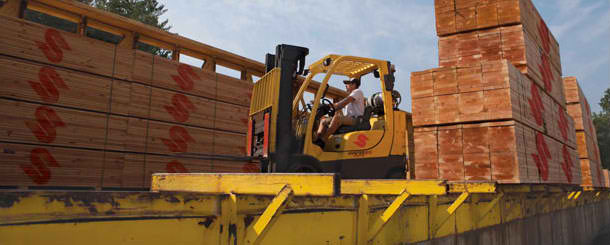 When it comes to lumber distributors, there is no shortage of options around the country, from the massive conglomerates to the smaller independent operations.
So why do our customers choose to do business with Sherwood Lumber over the competition? Well, we asked them. Quite simply, it's the fact that we've been there for them when they needed us. Whether it's on price, quality of product or delivery, we've made a point to be there for our customers time and time again. And if our sixty years in the industry have taught us anything, it's to understand and value those customers who have made that choice and do everything in our power to help them feel they made the right decision. Check out what our clients are saying.
The reasons to do business with Sherwood Lumber are simple:
INVENTORY & DISTRIBUTION We have invested where few others have. With over 60 million board feet on the ground, we're able to supply our customers with the product they need, when they need it. And in today's turbulent climate, that's more valuable to our clients than ever before. + more- less
Our wide-ranging distribution centers dependably serve our customers coast to coast, supplying more than 1800 lumber yards and manufacturers with building materials from environmentally managed products. Distribution Center Sales: Our "Quick Ship" program is committed to deliver product to you within 48 hours. With strategic locations in key markets Sherwood Lumber is there also to provide the necessary flexibility to assist in the long term management of your inventory needs. Mixed species & products, partial truckload stop-offs are all part of our everyday offerings.
RESPONSIVENESS In both our inventory and our direct business we have a reputation for knowing our customers and accurately responding to their needs the way few others can. Today's building environment is changing constantly, and our customers depend on Sherwood Lumber to help them both react and prepare for their jobs. + more- less
Sherwood Lumber is able to respond to our customers needs because of the way we're built. With strategically placed distribution centers located around the country, a very strong direct business–made possible by solid, long-term relationships with the top mills in the US and Canada–and an internal team that is always willing to go the extra mile for our customers, there is no lumber company in the nation better equipped to respond to customers needs than Sherwood Lumber.
DEPENDABILITY, FAIRNESS & HONESTY Our customers depend on the Sherwood Lumber team to come through for them so they can in-turn come through for their customers. + more- less
Being up front and honest, no matter what the news, is a cornerstone of Sherwood Lumber. Any company can promise the world. But it's the true partner who can deliver what they promise. And that's what our customers have come to value most.
PRODUCT KNOWLEDGE (PRODUCT & INDUSTRY) Sherwood Lumber is known for our in-depth product knowledge and our willingness to share this knowledge to benefit our customers. Our sales force combines for more than 1,000 years of industry experience, which translates to an incredible amount of accumulated product knowledge. + more- less
Our cutting edge program, Lumber Numbers, provides a lumber market perspective and lumber price analysis you won't find anywhere else. That's because we take the lumber market apart stick by stick; by specie, grade, dimension, and length. The end result of using Lumber Numbers is much more informed planning efforts and purchasing decisions, enabling users to get an unprecedented view of the product landscape. Risk Management is the formulation and execution of a pricing strategy relative to future business. At Sherwood Lumber, our Risk Management Team assesses our inventory risk along with forward risk. After looking at our proprietary data, market conditions, and fundamental ideas of the team, we come up with a strategy and execution plan. These ideas come to life in the form or our Guaranteed Forward Pricing program and can also be used by our customers to increase their bottom line and add sales.
GREAT SERVICE We acknowledge the changes, challenges and demands placed on every business in the new economy we are committed to providing the right solution the first time around. With sales to over 500 customers each month it's the simple things that really make a difference: + more- less
Answer the phone
Provide quick responses
Don't make promises you can't keep
Listen to understand
Deal with complaints
Be helpful, courteous and knowledgeable
Follow up
Take one more step than the competition to provide the best possible customer experience