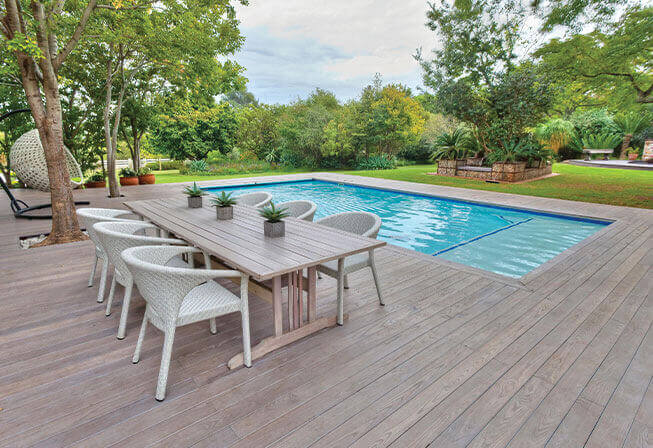 Finding more space for your backyard can be challenging, especially when the deck might seem an optimal solution. What can you do towards making the best of limited space? A well-designed deck doesn't need to take up that much room, and there are many ways to improve the design of a deck or patio. Below are some ways to maximize your thermally modified deck space.
Keep it in the shade
Since thermally modified wood decks are more resistant to rot and mold, they are an excellent solution for shade areas. If your deck is in exposure to the sunlight all day, you may have to paint or stain it more often. You can minimize the amount of upkeep your deck will need by keeping it out of direct sunlight. This can also help to make your deck look good for longer.
Incorporate your deck into other elements
Often, decks are designed to match the house or surrounding architecture. A great way to have an interesting deck without having it stick out is by building it with surrounding trees in mind. Consider using tree stumps for seating or some kind of pattern on the deck that mimics the look of logs in trees. This can be a great way to have a beautiful decking that makes the most of its space and still feels like it fits in naturally.
Consider an open deck
One disadvantage of a large deck is that it can feel crowded. If you have many people over for parties and gatherings, having a deck surrounded by other elements like railings or walls can close in the space. Instead, consider an open-air design that benefits from the air circulation as well as being visually appealing.
Add a table
One downside to having an open deck is that you need somewhere to sit. An excellent way to remedy this is by incorporating an attractive table into your thermally modified deck. Installing a table into your deck can help get the most out of your space, making it versatile and functional.
Make the most of space with stairs
Having stairs adds another element to deck design but can also unlock your potential for space. Instead of having one large platform for seating, consider adding a series of platforms with steps between them. This will create a more visually appealing design and more usable areas for entertaining or relaxing outdoors.
Design around lights
Another way to make the most of limited space is by planning around lighting naturally found in your yard. Consider creating a table with lights on it, so you have plenty of light at night when you eat outdoors. Lighting fixtures on timers or controlled by your thermostat can also be a great way to ensure your space is never too dark.
When it comes to outdoor living, you'd want to look for ways to maximize your thermally modified deck space. Thermally modified wood makes that much easier and can be a great way to create a beautiful deck without needing an excessive amount of space. Moreover, you should ensure you buy a high-quality decking material for your next project. Choose Americana wood decking for long-lasting and outstanding performance.