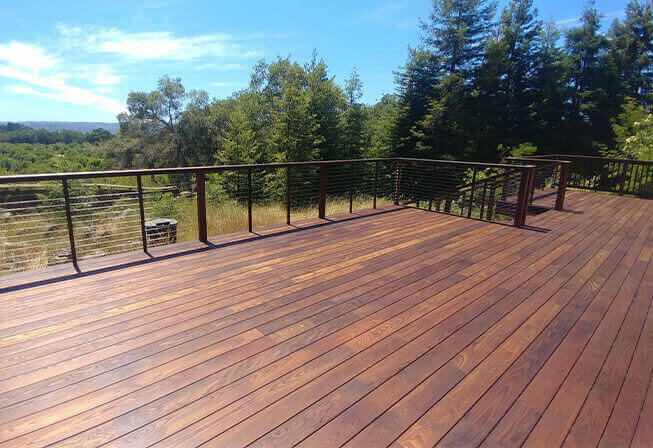 Pests are a serious issue for people who live in regions or climates with ample moisture. Many pest infestations begin on wet structures but only grow and become problematic when the weather turns dry. To avoid such outcomes, it's important to use thermally modified decking. Today we look at how to protect your thermally modified decking from pests.
Inspect the deck every year
Maintaining a thermally modified deck is not as simple as staining or sealing it. It requires more time, expertise, and attention than any other type of decking. Inspect it for pests and other unwanted organisms at least once a year. Look out for mites, aphids, small mammals, spiders, and insects that want to damage the wood. You might need to carefully remove debris that got scattered around the deck or some areas of it.
Keep your surface clean
Debris and other contaminants could damage the structure of your thermally modified decking over time. Clean up all unwanted stuff around it or use sweepers to remove tree branches or small stones that might get into the wood.
Cover the deck with insect control
You should apply insect repellents and rodent control sprays to protect your thermally modified decking from pests. A layer of poison blocks pests' access to your exterior decking and keeps them away. If you want to eliminate the insects, it's better to use a professional pest control service rather than handpicking them. When choosing a type of woodworking, look for one with low moisture content.
Use appropriate pest control products
Avoid using chemicals that can become a problem in the future while using a safe product for your decking. For example, you shouldn't use oil-based insect control products or pesticides on the wood because they could warrant health risks and damage the surface of your decking. Remember to clean up all residues immediately after application and before the weather turns dry!
Use a fence
A fence could help keep rodents and other pests away from your deck while adding a nice architectural touch to it. Pick a design that fits the design of your deck and contact a professional contractor to install one for you.
Insulate your decking
It might be necessary to insulate your decking against the cold winter months in regions with more than average weather changes. A thermostat will keep it at a comfortable temperature, and if you want to be sure that the wood remains dry, use an insulating material like cellulose or fiberglass. You can also wrap the thermally modified decking in a special plastic to give it additional protection from predators.
Use anti-infestation products
A good anti-termite product helps protect your thermally modified decking from pests. Always use an aerosol can, spray or dust with pyrethrin, approved for use on wood. Remember to go through the label carefully before you make your purchase.
If you want to help your deck last for years, use a professional thermally modified decking expert. They will install the material, advise, and let you know how to take care of your new woodwork. Sherwood Lumber is the best company to go for whenever you are looking for high-quality decking. Our Americana wood decking is one of the best in the building industry.