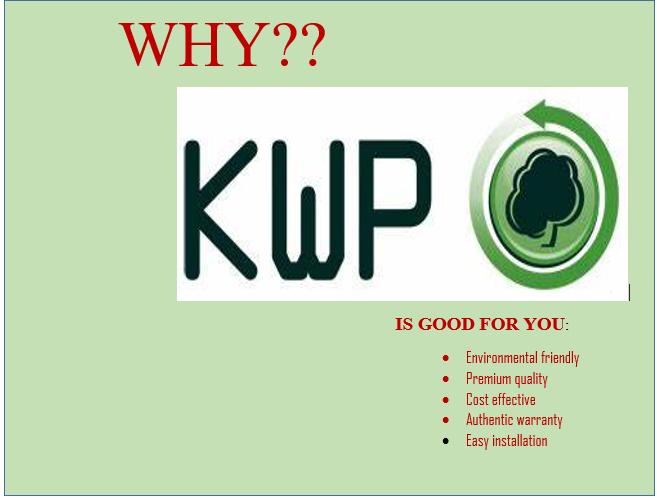 Are you a retailer or a homeowner trying to find a reliable, cost-friendly siding material option? Here are five reasons why KWP siding is right for you.
Environmental and user-friendly
One very outstanding thing about KWP building materials, especially the siding material, is its eco-friendliness. Besides the customers, KWP also has its loyalty to the environment, which is why its products are highly environmentally friendly.
KWP products are constructed from 100% pre-consumer recycled content. The manufacturing also entails using high-quality additives, ultimately increasing rigidity and strength. These high-quality, certified materials are both safe for the environment and humans' lives.
Authentic, industry-leading warranty
Compared to other manufacturers, KWP offers the best warranty and deals. Basically, the warranty entails 50 years of protection against denting, cracking and hail damage. It also has 25 years of protection on the finish. Statistically, this is the best warranty that can be, if you are a retailer, then you can have confidence your customers will be well-covered. And for the homeowner, you will not have any reason to worry about getting hidden or additional costs.
Premium quality
The durability of KWP products is worth amusing at. Judging from the numerous incredible customer reviews, it is evident that customers find what they need; besides, they keep coming back for more. KWP building products, with a specific eye on the engineered wood siding, are of unmatched quality. The processing and treatment are done using cutting-edge technology and supervised by skilled experts who put every effort into producing the best. For this reason, KWP products tend to be of high-quality, last for years and are hardly affected by the elements, including physical impact.
Cost advantages
However flexible your budget is, there is a point your cost will be limited to, which is why, cost is the next important factor after the quality and the warranty.  KWP recognizes this, and so, they offer their products at reasonable prices, while also offering amazing deals.
The cost advantage and deals also extend to major KWP siding distributors, who offer just as good deals.  You can always visit Sherwood Lumber site to check out some of these deals and to receive more advice and insight on your dealings as far as KWP siding is concerned.
Incredible aesthetics
Its quite obvious no homeowner wants an unattractive site for their home, and incredible aesthetics is a major pride of KWP. With an appealing cedar grain texture, KWP engineered wood siding offers nothing less than premium quality looks. Whether you are going for the traditional appeal or a modern one, KWP has you covered,  because its traditional wood-like appearance is quite versatile. If you are a retailer, then this is what you want to get for your customers and then be sure that it will sell itself to more prospects.
The best part about this siding option is that it comes pre-primed, and they accept paint well, making them very low maintenance. A KWP siding can last for over ten years before you start seeing even slight changes in the appearance. What more can you possibly ask for?
Easy installation
Last but not least, is its ease of installation. KWP siding material requires no special tools for installation. Newbies also hardly get trouble in installing it, of course with the right instructions and guides.
These are the top five reasons why KWP siding is right for you. They are pretty much the major factors to consider when purchasing building materials.